Ralph Baer Day 2019
Friday, March 8, 2019
Public Reception 5pm – 9pm
CELEBRATE THE 97TH BIRTHDAY OF RALPH BAER – THE FATHER OF VIDEO GAMES!
HAPPY BIRTHDAY RALPH BAER!
PUBLIC RECEPTION FRIDAY, MARCH 8, 5PM-9PM
EXHIBIT RUNS MARCH 7 – 12
Game-related artwork on display and Chiptune music are created by local artists. Artwork on display will be for sale.
Ralph Baer Day 2019 is a multimedia art exhibition at Jupiter Hall that honors the legacy of
Ralph Baer
, the "Father of Video Games." Ralph Baer Day 2019 features a 15 foot interactive video game, the Baer Project Ping Pong installation.
A former Manchester resident, Ralph Baer invented the first video game console and held over 150 patents on games, devices, and other technology like SIMON and the light gun (used to play Duck Hunt). Baer was an inventor and creator throughout his life, and while he didn't necessarily want honors, he did want to inspire others to make things and play.
Ralph Baer's inventions are a work of art that have inspired so many more creators. This exhibit of video game inspired art will serve as a reminder of the impact Ralph had on the lives of all.
All funds raised from donations and from purchasing game-related artwork on display during Ralph Baer Day 2019 will benefit the Baer Square Project, a commemorative square featuring a bench with a seated statue of Ralph Baer.
For questions and updates, please contact Katie Bérubé at katie@jupiterhallnh.com – OR text/call 603-289-4661.
ABOUT RALPH BAER DAY 2019 PROJECT TEAM
Jupiter Hall is a community-oriented multi-purpose creative space located in Manchester, NH where communities experience arts, culture and innovation. Our mission is to showcase and present exciting opportunities for storytellers, creatives and professionals. Jupiter Hall is winner of New Hampshire Union Leader 2018 Reader's Choice Awards – "Best Art Gallery" (Silver). Visit: http://JupiterHallNH.com.
QUESTIONS? For questions and updates, please contact Katie Bérubé at katie@jupiterhallnh.com or call 603-289-4661.
———————————–
What are my transportation/parking options for getting to and from the event?
Listed below are some areas around Jupiter Hall that are at little or no cost.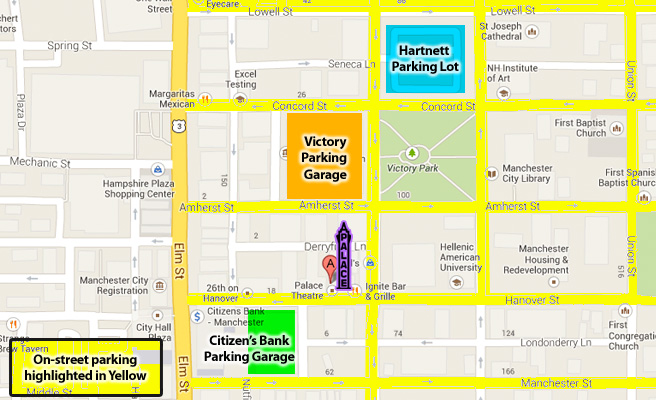 On-Street Parking
On-street parking typically is either $0.75 or $0.50 an hour. Be aware that some on-street parking meters have a two-hour limit. Read meters for specific details and applicable hours.
Citizen's Bank Parking Garage
New rates: 0-2 hours $6 ** 2-4 hours $7 ** 4-10 hours $11 ** 10-12 hours $12 ** 12 hours + $22
Victory Parking Garage
The Victory Parking Garage is city-owned. Parking meters (pay by space) will be installed May, 2017. Procedure for parking:
1.) Find available space/remember your space number.
2.)Walk to street level corner stairwell or front of office location and find pay by space meter.
3.)Follow instructions on meter (coins and credit only no dollar bills) .75 hour / max of $6.00.
4.) Must pay before leaving garage.
Hartnett Parking Lot
The Hartnett Parking Lot is a city-owned lot. The rate is $0.50 per hour Monday thru Friday until 5:30PM. The metered parking is located around the perimeter of the lot. Parking is free after 5:30PM on weekdays and weekends. Only at that time you may park anywhere in the parking lot.
Jupiter Hall is courteously sponsored by Blackmagic Design.