Add a bit of cinema to your Saturday in a salon style setting!
Jupiter Hall proudly presents an encore screening of the 19th Emerson Film Festival. The festival, first screened at the Bright Family Screening Room in March, is a celebration of short films completed by diverse college filmmakers enrolled at Emerson College.
We will screen two 45 minute programs (Narrative and Documentary). Popcorn and light refreshments will be served – Join us!
DOORS OPEN AT 2PM (One hour before start of screening).
This event is free and open to the public.
Awards originally presented at the festival:
– EFF Audience Choice Award (Narrative and Documentary), presented by Daniel Bérubé, Boston Creative Pro User Group
– Dr. Robbins-Wilf Women in Film Award
PROGRAM ONE – Narrative (12pm)
– Happiness
Ani M, 2 minutes
An experimental short inspired by the same name poem written be Malena Morling. This film tries to juxtapose the words in the poem with a strong imagery, while still maintaining the emotional depth and meaning of the piece.
– Iglooghost
Luke Gibson Clear Tamei 4.5 minutes
In this official music video for 'Clear Tamei,' Iglooghost is drained and warped by the mesmerizing, colorful beings known as Tamei and Mogu.
– Nektarinky
Fode Busia and Alex Weingarten 6 minutes
A wealthy entrepreneur leaves behind his fortune on a quest to collect milk bottles with death lurking at every turn. Along the way he encounters old friends and enemies, but which one is responsible for his end?
– Canary Red
Carrie Cullen, 12 minutes
80 year old Eileen is poisoned by the toxicity of
our polluted environment, making daily life impossible outside the seclusion of wilderness. This experimental documentary explores humans' shift away from the
natural world in favor of synthetic convenience and questions our future as a species.
– Leaving
Chenyun Huang, 13 minutes
A short narrative film captures the daily life of a three-generations Chinese family while the grandfather suffers through the late stages of Alzheimer's disease. Through the eyes of a little girl, we see family members' different emotional reactions to the old man's irreversible dementia and how it affects the girl's perception of death.
– Ghost in A Machine
Mike Quill, 7.5 minutes
A former professor of psychology comes to terms with his own mortality and recalls his lifelong pursuit of reconciling practicality and intellect. Through recollections and archival footage documenting his harrowing efforts to restore his historic home after a devastating fire, he paints a poignant, but down-to-earth, allegory of life itself.
**- Patron Saint
Georden West, 7 minutes
The ecstasy of a queer saint brings her to the gates of heaven. In a celebration of the Divine Queer, Patron Saint reimagines religion and history as queer deities interact within a mystical landscape.
** Winner of EFF Audience Choice Award (Narrative), presented by Daniel Bérubé, Boston Creative Pro User Group
– My Nature
Ulya Aviral, 10 minutes
A woman escaping from an unending Middle East war by crawling through underground tunnels finds a mysterious path where she recalls her past in a secret language.
– Beard
Courtney Burness, 15.5 minutes
In 1986, two seemingly heterosexual parents are both forced out of the closet by their nosy neighbor. This family comedy explores how they navigate prejudice in their small town, fight for equality, and attempt to find love while holding on to their 20-year marriage.
PROGRAM TWO – Documentary (2pm)
– Devoured
Angelica Bourland and Olivia Possino, 3 minutes
An experimental film that explores how even though people are capable of so much love, they will often choose toxicity instead.
– I Feel to the Left: a Meditation
Kathryn Garelli, 4 minutes
A personal documentary that explores the effects of birth control on mental health. It emphasizes a systemic problem with birth control that is universal yet largely goes unspoken.
– Best Evidence
Alex Bilodeau and Dai Wei 11 minutes
A Chinese filmmaker is arrested while documenting a protest on the Boston Common. Accused of assaulting a police officer, he hopes a video of the incident might protect him.
**- El Desaparecido
Margarita Martinez, 12 minutes
Set in 1950s Puerto Rico, a 16-year-old boy's physical altercation inadvertently leads to the disappearance of his employer and mentor. A fictional narrative film, El Desaparecido incorporates music, dance, and documentary elements to pay tribute to actual events and explore the ramifications of Puerto Rico's relationship with the United States.
**Winner of Dr. Robbins-Wilf Women in Film Award
– Street Memorials Project
Vivian Williams and Anna Lamond, 7 minutes
Highlights the groundbreaking work of Emerson's 2018 Artist in Residence, Cedric Douglas. This short film documents his original and unconventional approach
to addressing the police violence that led to the murders of hundreds of black men and women
in the United States.
**- No Whites Allowed
Jeru Berry, 30 minutes
A short documentary that discusses the creation and impact of a comedy show created for diverse voices while also communicating the disparity of race at private colleges.
** Winner of EFF Audience Choice Award (Documentary), presented by Daniel Bérubé, Boston Creative Pro User Group
ABOUT 19TH EMERSON FILM FESTIVAL
The 19th Emerson Film Festival is a celebration of short work completed while enrolled at Emerson College. The festival is sponsored by Emerson College's Department of Visual & Media Arts. Emerson VMA prepares students to succeed in the areas of film, production, screenwriting, and directing. Emerson VMA offers undergraduate and graduate programs in film, video, television, radio and audio, new media and media studies.
ABOUT EMERSON COLLEGE
Emerson College combines intellectual exploration with professional preparation to help ambitious, independent-minded artists and communicators of every background become a creative force in fields that shape our society, culture and future.
ABOUT JUPITER HALL
Jupiter Hall is winner of "Best of Manchester" Best Art Gallery in The Hippo Best of 2019 Readers Picks; and winner of New Hampshire Union Leader's 2018 Reader's Choice Awards – "Best Art Gallery" (Silver).
Jupiter Hall is a community-oriented multi-purpose digital media creative space located in Manchester, NH where communities experience arts, culture and innovation. Our mission is to showcase and present exciting opportunities for storytellers, creatives and professionals working with Digital Media and other innovative formats to share their stories, culture and vision. http://JupiterHallNH.com
QUESTIONS? For questions and updates, please contact Katie Bérubé at katie@jupiterhallnh.com or call 603-289-4661.
———————————–
What are my transportation/parking options for getting to and from the event?
Listed below are some areas around Jupiter Hall that are at little or no cost.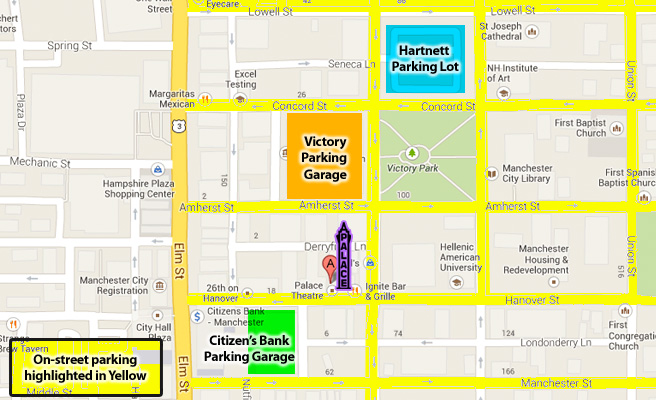 On-Street Parking
On-street parking typically is either $0.75 or $0.50 an hour. Be aware that some on-street parking meters have a two-hour limit. Read meters for specific details and applicable hours.
Citizen's Bank Parking Garage
New rates: 0-2 hours $6 ** 2-4 hours $7 ** 4-10 hours $11 ** 10-12 hours $12 ** 12 hours + $22
Victory Parking Garage
The Victory Parking Garage is city-owned. Parking meters (pay by space) will be installed May, 2017. Procedure for parking:
1.) Find available space/remember your space number.
2.)Walk to street level corner stairwell or front of office location and find pay by space meter.
3.)Follow instructions on meter (coins and credit only no dollar bills) .75 hour / max of $6.00.
4.) Must pay before leaving garage.
Hartnett Parking Lot
The Hartnett Parking Lot is a city-owned lot. The rate is $0.50 per hour Monday thru Friday until 5:30PM. The metered parking is located around the perimeter of the lot. Parking is free after 5:30PM on weekdays and weekends. Only at that time you may park anywhere in the parking lot.
Jupiter Hall is courteously sponsored by Blackmagic Design.